Babe
Babe wins best opposite Baby in Show at the Great Dane Club Champ Show under Dr Eric Liebes (USA)
at 5 months of age. His sister Pink went Best Baby Puppy in Show.
____________________________
Pictured below at 3 years
____________________________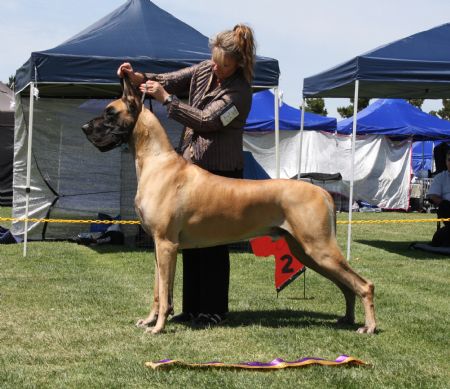 **AUSTRALIAN GRAND CHAMPION Darkat Achtung Baby**
Babe
Babe was the first born in the litter, weighing in at 1000grams at birth this young man has a special place in our hearts for many reasons. Nicknamed the "Clown" mainly because he actually is one! he oodles personality and is quite the showman.
Babe impressed us with his typical Dane like temperament and willingness to please from the start but most of all his carriage and presence is what caught our eye and it often can be the very thing that can set apart the great dogs from the good ones . He displays correct Dane movement, lithe springy action with good reach and drive, he has all the Dane characteristics we strive for in the breed.
We recognise that this young fellow will mature slowly, so with patience we wait for him to develope , nice and slow , although it is rewarding that many judges already have recognised this young puppy's qualities, awarding him multi BOB against older, titled competition and numerous class in groups.
Babes most recent wins include Reserve DC and Puppy in Group at Australia Day International show under Mr J Peddie from Canada.26/Jan/2010 and 20/Feb/2010 was awarded a 14 point BOB under All Breeds judge Mr John Sheppard(NSW) at Sunshine Kennel Club.
We invite you back to look in on Babes progress as he matures, we will update his picture gallery and results regularly.
Unfortunately Babe bloated and was operated on at just under 8 months of age, he was 68 kilo before his op and now we are gradually increasing his weight slowly on a special diet. We will be spelling Babe from the show ring until he has his condition back on.
Babe is enjoying relaxing around the home, treks out the bush and socializing down the local dog park...What a life!!
After Babe having over 9 months out of the ring this year, recovering from his surgery he has come back in style with numerous BEST OF BREEDS, Age Class in Groups and to finish off the year with..
## BEST EXHIBIT IN GROUP (Group 1st) under respected ALL BREEDS Judge Mrs Beulah Pontin and BEST OF BREED & Intermediate in Group under Mr R Dawson (Philippines) at the Lancefield shows Dec 2010, WAY TO GO MY BABY!!

## BABE does it again a month later...BEST EXHIBIT IN GROUP (Group 1st) under FCI International All Breeds Judge Mr Hisayoshi Kadowaki (Japan) 26th Jan 2011 at our prestigious AUSTRALIA DAY INTERNATIONAL show...photos below.

##BEST EXHIBIT IN GROUP (Group 1st)@ SHEPPARTON AND DISTRICT KENNEL CLUB 7th MAY 2011 under ALL BREEDS JUDGE MISS M DAVIS (QLD) Photos below.
###BEST EXHIBIT IN GROUP (GROUP 1ST) @ LANCEFIELD KENNEL CLUB SHOW under MR K LOVELL (VIC) AND BEST INTERMEDIATE IN SHOW under MR A BURT (VIC)###
Hips/Elbows 1-1 0-0
Cardio-Clear
T4-Normal
Babe is not available for stud due to being diagnosed with CVI (wobblers syndrome) at 13 months of age.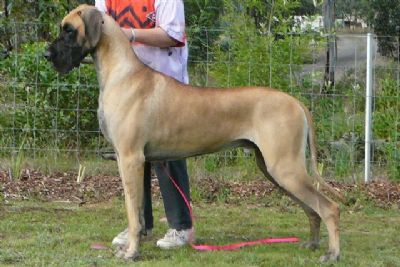 Babe at 18 months of age ...just starting to mature! MR HAPPY FEET
26-1-2011 (Thank you BiJu Photography)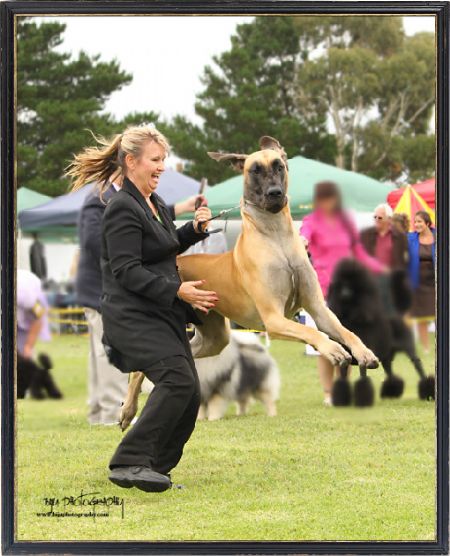 Below : Australian Champion Darkat Achtung Baby
Judge Mr Hisayoshi Kadowaki (Japan) Group 1st. 26-1-2011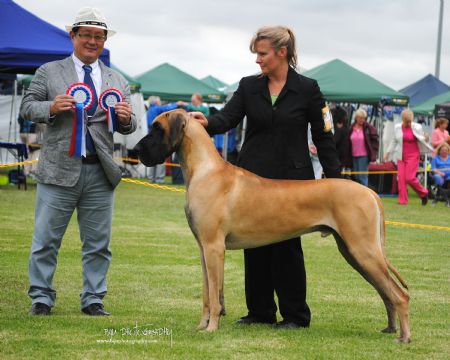 Babe at 8 weeks of age


Babe at 11 weeks


Babe-Head study
4 months old


Babe 4 1/2months old
Bendigo show-moving


Babe 10 months old


Head Study 10 months


Babe 13 1/2 months


Babe 14 months


Babe 14 months


Babe 18 months old


Babe 18 months


Babe 21 months


Babe 21 months at home


Babe 22 months.


Babe Moving


Babe Moving April 2011


Babe. Best Exhibit in Group. Shepparton 2011


Babe. BIG @ Shepparton 2011


Mr Handsome! 2years old


Winners dog under Breed Specialist Ms Annette Alexander.


Babe @ SKC NSW Reserve Dog
Photo by Margo Turnbull


Babe 27 months old


Reserve Dog Challenge @ the GDCV Champ show. Oct 2011


Babe 2 1/2 years


Babe 2 1/2yrs...