Bo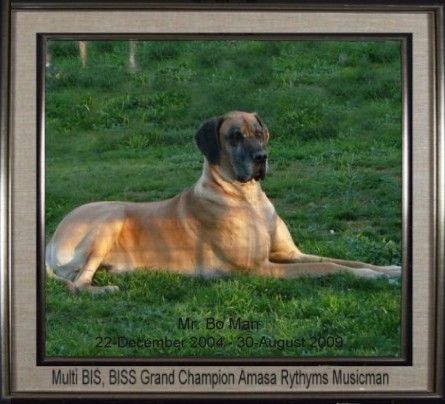 Click each link to view larger photo.
Multi BIS, BISS Grand Champion Amasa Rythyms Musicman
Bo
Bo had a fantastic show career, 87 Best of Breeds, 1300 Challenge points, Best in Specialty (Champ Show), 2 Best in Shows All Breeds, 3 Runner up Best in Shows, 23 Best Exhibits in Group, 14 runner-up Best in Groups. Winning under local, interstate, internationals and Breed Specialist judges
We also delved into obedience and he began working his way through the ranks up to level 4, ready to trial for CCD, unfortunately we never took it any further.
Bo was retired from the show ring in 2008 at 3 years of age due to health reasons.
Bo has given us many years of great joy and wonderful moments, in the show ring and at home with his antics and his cheeky character.

Bo was put to sleep on the 30th August 2009 after many tests and specialist visits, unfortunately we could not detect what was wrong with Bo, he displayed all the symptoms of DCM but a Echo revealed there was nothing wrong with his heart but a ultra sound did detect a enlarged spleen and tumors. A post mortem showed us that Bo had Hemochromatosis, it is a genetic disease of abnormal iron metabolism, all of Bo's main organs had traces of iron. Whilst this disease is often undetected due to its variation in symptoms, it often becomes undiagnosed or is often treated for something completely different. Unfortunately we had 2 blood test done and it was not detected, we are not sure why it wasn't picked up. Sometimes there are no answers as to why these things are not diagnosed when we think they should be.
Symptoms we encountered with Bo included.
Fatigued during walking, often stopping and sitting down
Weight loss, lack of appetite
Hacking after drinking & Vomiting
Lethargy
Collapse & disorientation
Cold to touch and shivering
Urine a bronze color (Not orange but a dirty, rusty appearance)
Personality change but usually only occurs in the later stages of this disease.
If your Dane displays any of these symptoms, please do not rule out Hemochromatosis, usually a bloody test will detect this disease and it is treatable, dogs that are detected early enough can live happy and normal lives.

22-December 2004 ---- 30-August 2009
Run free my darling
| | | |
| --- | --- | --- |
| Bo 4 months old | Bo 9 months old | 9months head study |