News/Shows/Judging
Runner up to Best Exhibit in Group at the All Breeds Dog Club South Australia 24th November 2017
Best Exhibit in Group at the All Breeds Dog Club South Australia 25th November 2017
Friday 24th of February 2017 I judged at Hills Kennel Club Championship Shows in Western Australia (Perth),
The Great Dane was my Best Exhibit in Group 7, he went on to win Runner up Best in Show.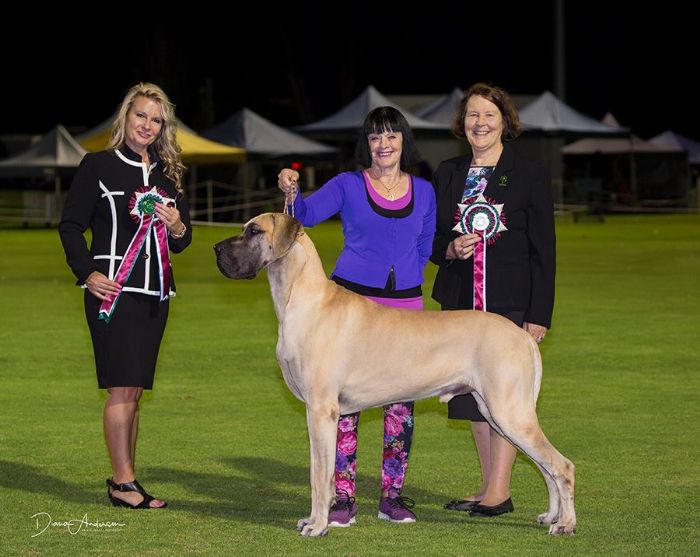 Results from my judging of group 6 on Sat 25th of Feb 2017 at Hills Kennel Club (WA) as per link below. Entry of 101 in Utility
Best in Group was the Rottweiler who then went on to win Runner up Best Exhibit in Show under All breeds judge Cathy Camac.
Runner up Best Exhibit in Group was the Dobermann
RESULTS:https://www.dogzonline.com.au/dog-show-results/2017/results.asp?show=15832
____________________________
Sunday 22nd Jan. 2017 judging group 7. Best Exhibit in Group the Boston Terrier.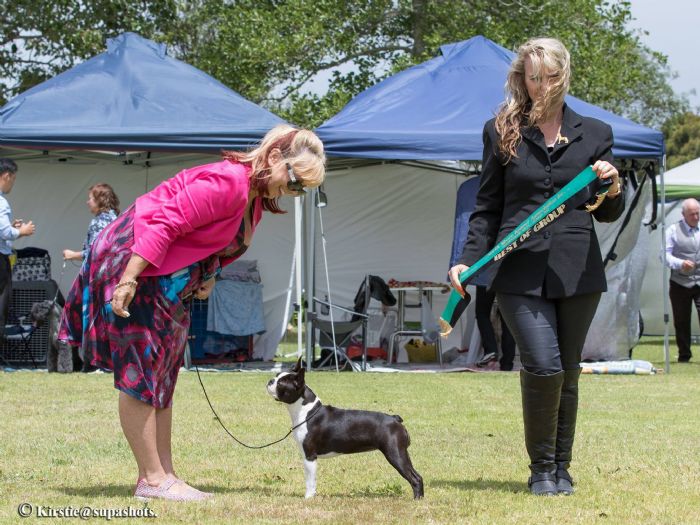 21st Jan. 2017 was my first overseas judging appointment alongside a International panel of judges.
Saturaday's judging Group 6, I awarded the Bernese Mountain Dog, Best in Group (group 1st)
Runner up best in group was the Boxer, results in the link below
RESULTShttps://www.dogzonline.co.nz/dog-show-results/2017/results.asp?show=15466
___________________________________________________________
Best Exhibit in Group @ Yea & District Canine Association (13-11-2016)
Dobermann Aust Ch Walamara Rapid Rhythm (AI) (Imp NZ) (Emily Manning)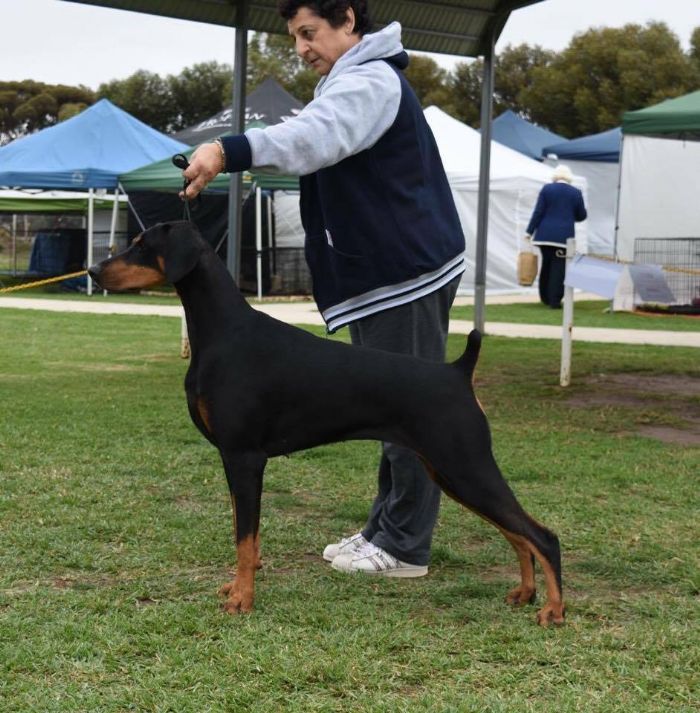 Runner up Best Exhibit in Group (Boxer) Aust Ch Tyeanbo Doing The Time Walk (D & S F Crooks / G Munro)
Baby in Group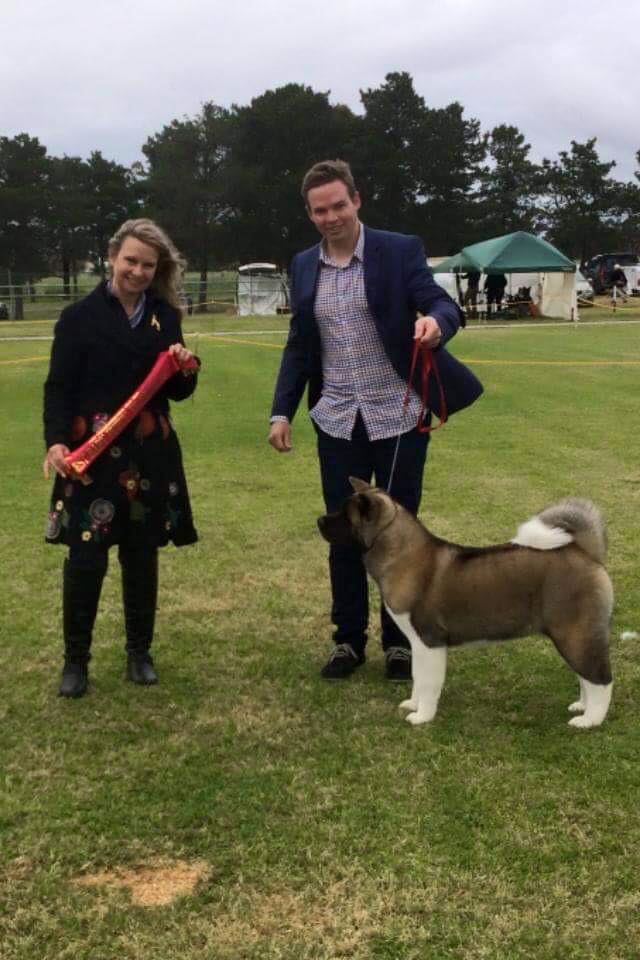 Minor in Group Walamara Venture to Victory (Imp NZ) (B & G Alexander / M Wissmer)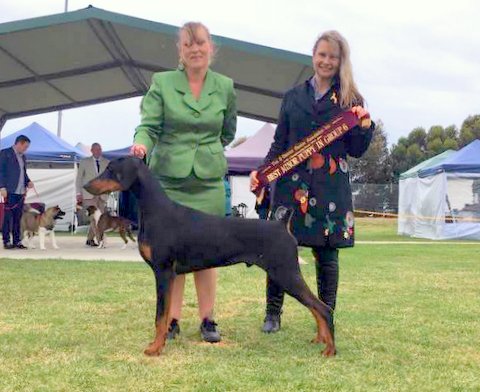 Puppy in Group (Boxer) Tyeanbo Style N Grace (D & S Crooks / G Munro)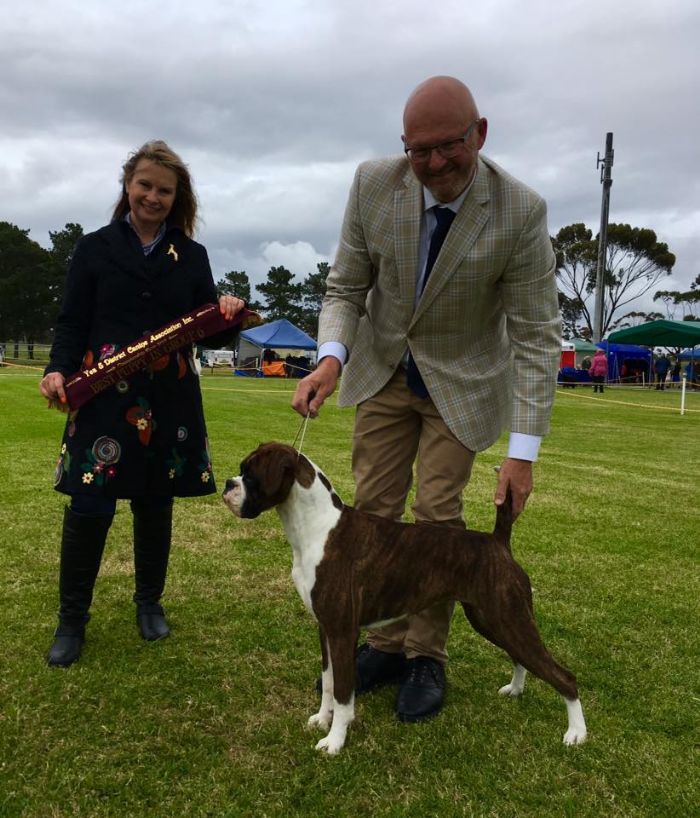 _______________________________________________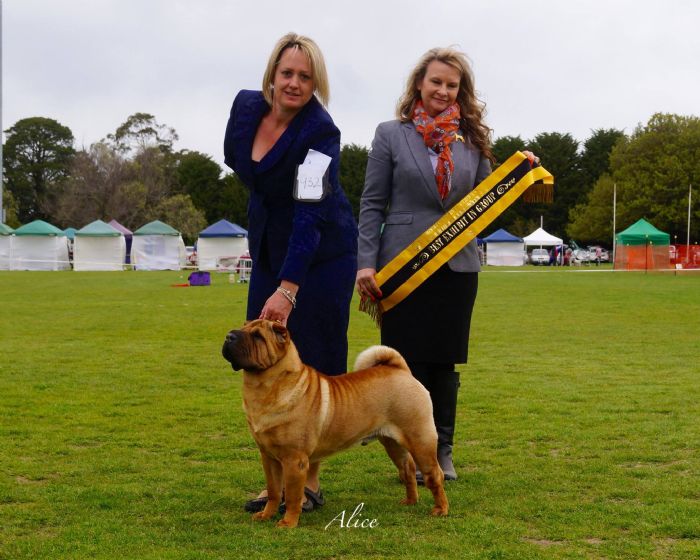 Romsey Kennel Club 16th October 2016 PM show. 119 entries
BEST EXHIBIT IN GROUP - Shar Pei Aust Sup & Am Ch Shine's Gift Wrapped For Silkston (Imp USA) (S White)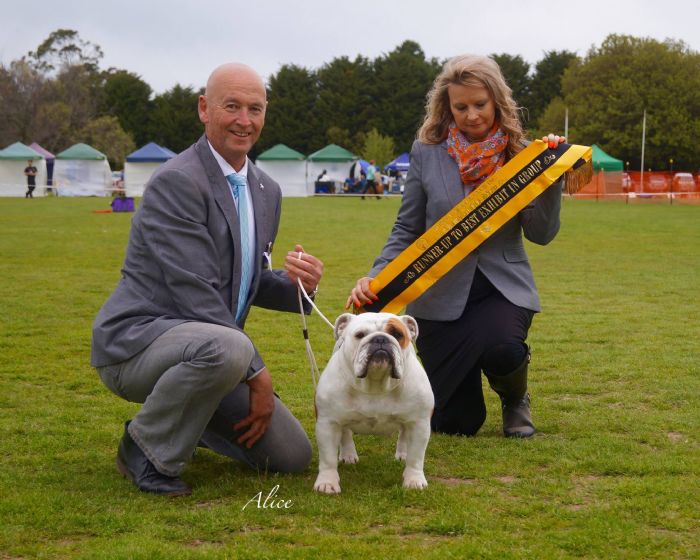 Runner Up Best in Group, British Bulldog Aust Sup Ch Bullybabe My Frankie Junior (Brendan Bourke)
__________________________________________________
Australian Cattle Dog Open Show - Sunday 31st July 2016
Best in Show / Puppy in Show - Pureheel Royal Inspiration
Bred by A & R Spargo- (photo by Jean Purcell and Alan Spargo)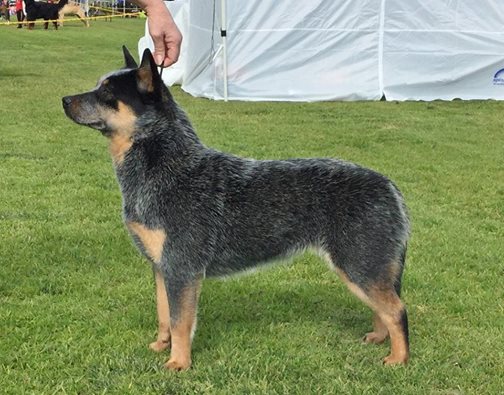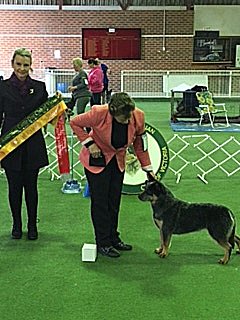 ________________________
9TH OF JULY 2016 All Breeds Judge Mr Iain Hinde and myself judged the Anatolian Shepherd Dog Specialty Show, 2 championship shows on the same day. 24 dogs in total and we both awarded the same dog for BISS Aust Ch Tribocie Take The Jaffa Cake (owned by P & K Mathews) bred by Ekin & Ash Esad. A true working dog, this dog came from his working duties on the farm to be a show dog for the day. A wonderful large, tall upstanding male, displaying all the qualities that sets this breed apart from the other working breeds.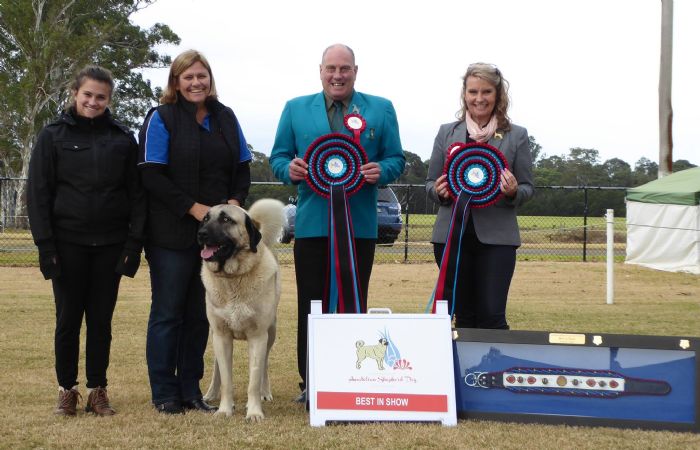 This club certainly know how to put on a show, the trophy table was amazing! and I was thrilled to see a few of my art works present.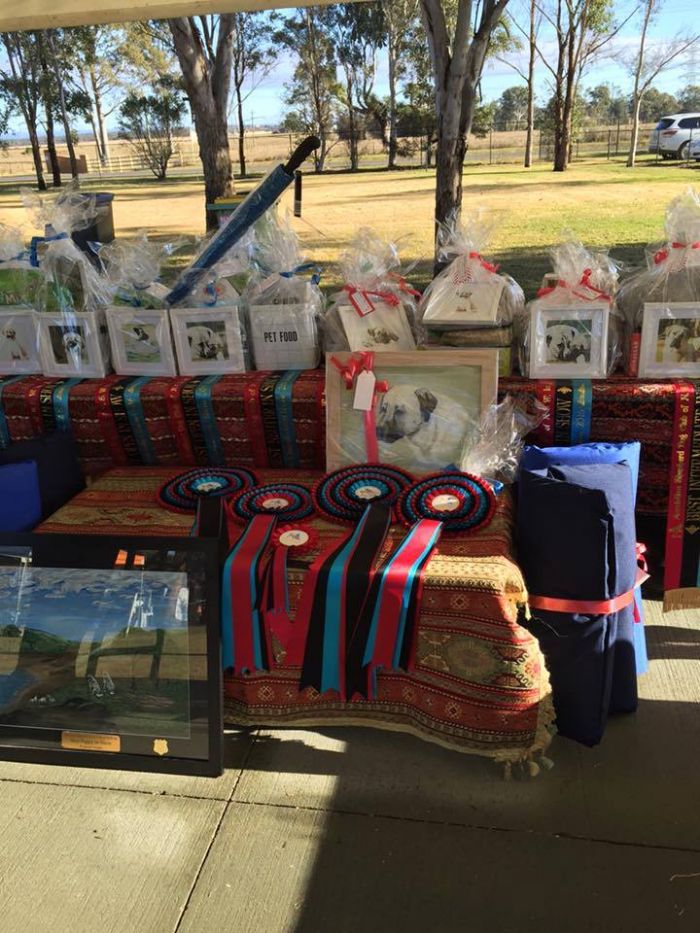 Best Neuter in show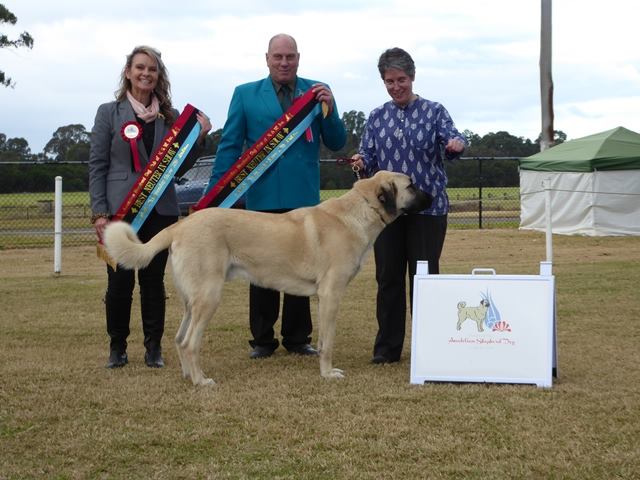 Best Junior in Show Shepherd Rest Beyaz (IMP USA) (E & A Esad) bred by C Walker.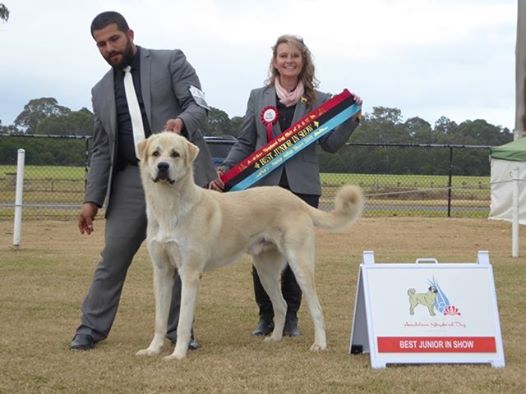 __________________________________________________
On the 18th of June 2016 I was invited to judge the Utility and Non Sporting Dog Club of Tasmania, along with my Co-Judge Ms Julia Jones from Victoria we both selected the beautiful Lhasa Apso and both of us unbeknown to each other, awarded him BEST IN SHOW!
"Sup Ch Amesen Creme Puzzle" Owned/Handled by Trudi Counsell and bred by J Longmire & M Camac
Photo by Josh Turner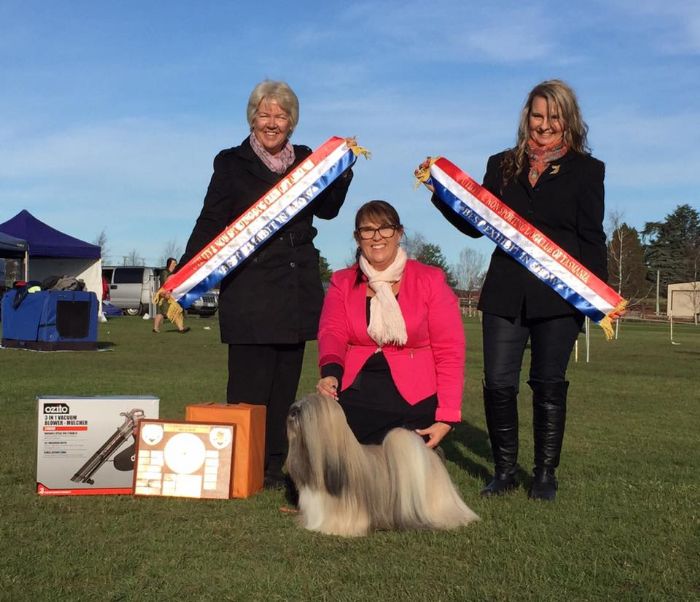 Runner up in show was the Samoyed Ch Aldonza Stand Easy (F Tucker/M Johnson/C Houston)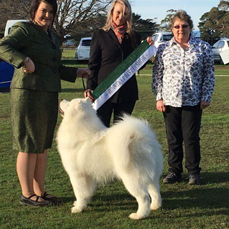 _________________________________________________________________________
Recently I had the privilege of judging the Akita Inu Open show November 2014
I was thrilled with the quality of exhibits considering this breed is a relatively rare breed here in Victoria.
My BEST in SHOW and my Baby in show from the same kennel ...Shinano.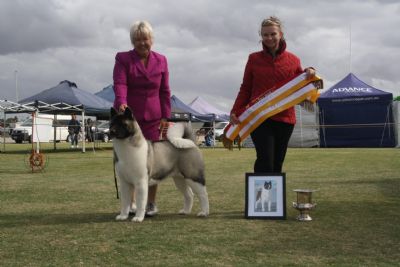 ____________________________________________________________________________________________________________________________
January the 18th 2014 I judged group 7 (Non Sporting) at the Lang Lang PA & H Assoc.
My Best EXHIBIT IN GROUP (GRP 1st) was the Sharpei
AUST. & AMERICAN CHAMPION SHINES GIFT WRAPPED FOR SILKSTON (IMP USA)
Owned by Stacey White,
...this outstanding dog went on to win BEST IN SHOW !! under All Breeds Judge Ms Jacqui Weekes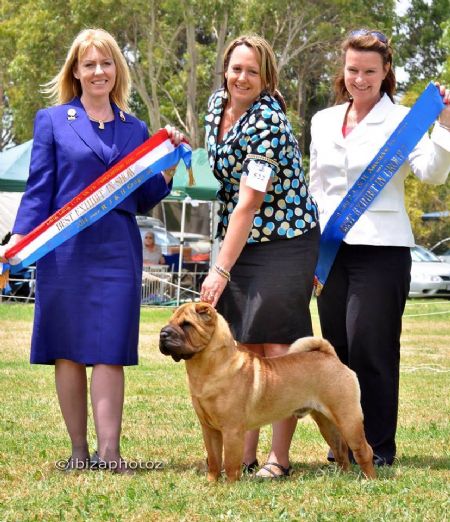 My Runner Up Best Exhibit in Group (Grp 2nd) was the Great Dane - Swayd Doing it my Way (AI)
Bred by K McKinnon owned by Kerry McKinnon and Jasmin Briscoe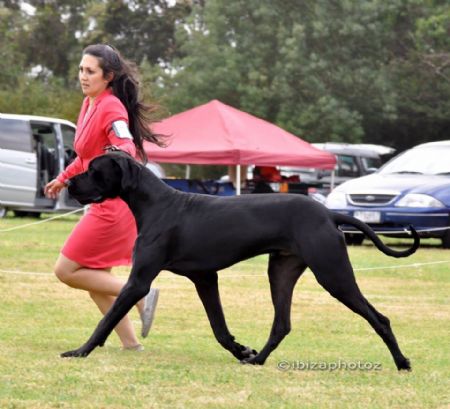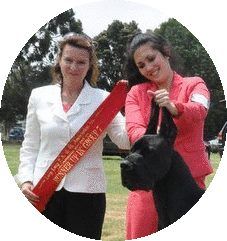 Thank you to all those that entered under me on the day, I had some really lovely dogs to choose from which made some of my
judging decisions dificult .....thank you all for your support and your fantastic display of sportsmanship on the day.

IIIIIIIIIIIIIIIIIIIIIIIIIIIIIIIIIIIIIIIIIIIIIIIIIIIIIIIIIIIIIIIIIIIIIIIIIIIIIIIIIIIIIIIIIIIIIIIIIIIIIIIIIIIIIIIIIIIIIIIIIIIIIIIIIIIIIIIIIIIIIIIIIIIIIIIIIIIIIIIIIIIIIIIIIIIIIIIIIIIIIIIIIIIIIIIIIIIIIIIIIIIIIIIIIII
24-Nov-13 BEST OF BREED/RUNNER UP BEST EXHIBIT IN GROUP/BEST AUST. BRED IN GROUP
Wodonga Kennel Club [CH] (Judge was Mrs Barbara Killworth)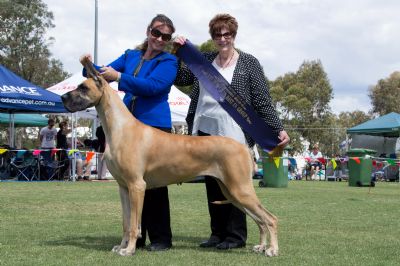 IIIIIIIIIIIIIIIIIIIIIIIIIIIIIIIIIIIIIIIIIIIIIIIIIIIIIIIIIIIIIIIIIIIIIIIIIIIIIIIIIIIIIIIIIIIIIIIIIIIIIIIIIIIIIIIIIIIIIIIIIIIIIIIIIIIIIIIIIIIIIIIIIIIIIIIIIIIIIIIIIIIIIIIIIIIIIIIIIIIIIIIIIIIIIIIIIIIIIIIIIIIIIIIIIIIIIIII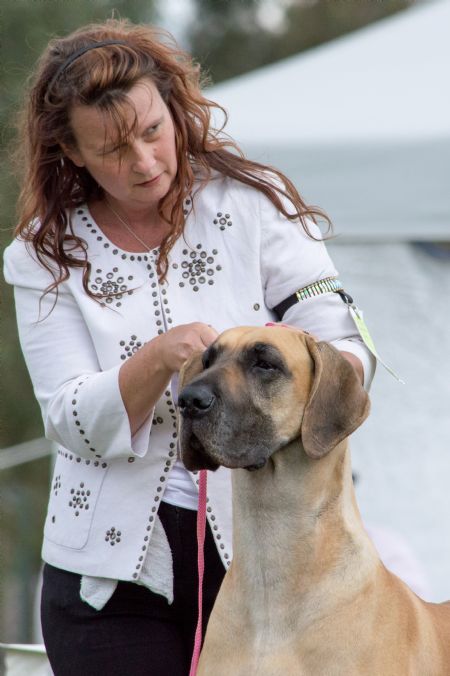 23-Nov-13 BEST EXHIBIT IN GROUP / BEST AUSTRALIAN BRED IN SHOW
Wodonga Kennel Club [CH] (Judge was Mr John Palmer)
IIIIIIIIIIIIIIIIIIIIIIIIIIIIIIIIIIIIIIIIIIIIIIIIIIIIIIIIIIIIIIIIIIIIIIIIIIIIIIIIIIIIIIIIIIIIIIIIIIIIIIIIIIIIIIIIIIIIIIIIIIIIIIIIIIIIIIIIIIIIIIIIIIIIIIIIIIIIIIIIIIIIIIIIIIIIIIIIIIIIIIIIIIIIIIIIIIIIIIIIIIIIIIIIIIIIIIII
New GRAND CHAMPION DARKAT ASTI RICCADONNA

5-Oct-13 BEST OF BREED/RUNNER UP BEST EXHIBIT IN GROUP/BEST AUSTRALIAN BRED IN GROUP
Seymour A&P Soc. [CH] (Judge was Mrs J Armatys (QLD)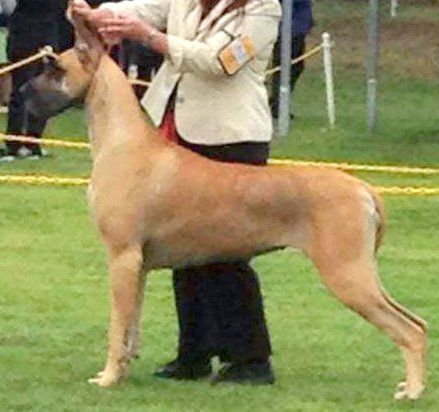 LLLLLLLLLLLLLLLLLLLLLLLLLLLLLLLLLLLLLLLLLLLLLLLLLLLLLLLLLLLLLLLLLLLLLLLLLLLLLLLLLLLLLLLLLLLLLLLLLLLLLLLLLLLLLLLLLLLLLLLLLLLLL
Madonna wins BEST EXHIBIT IN GROUP, under Mrs J Bray (NSW) 17th August 2013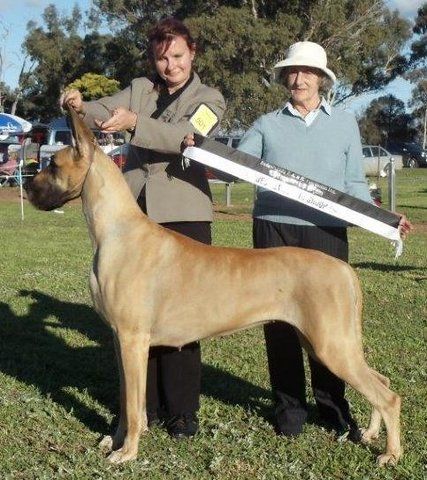 LLLLLLLLLLLLLLLLLLLLLLLLLLLLLLLLLLLLLLLLLLLLLLLLLLLLLLLLLLLLLLLLLLLLLLLLLLLLLLLLLLLLLLLLLLLLLLLLLLLLLLLLLLLLLLLLLLLLLLLLLLLLLLLLLLLLLLLLLLLLLLLLLLLLLLLLLLLLLLLLLLLLLLLLLLLLLLLLL
Madonna wins BEST OF BREED, RUNNER UP TO BEST EXHIBIT IN GROUP (GRP2) UNDER Lyn Brand (NSW)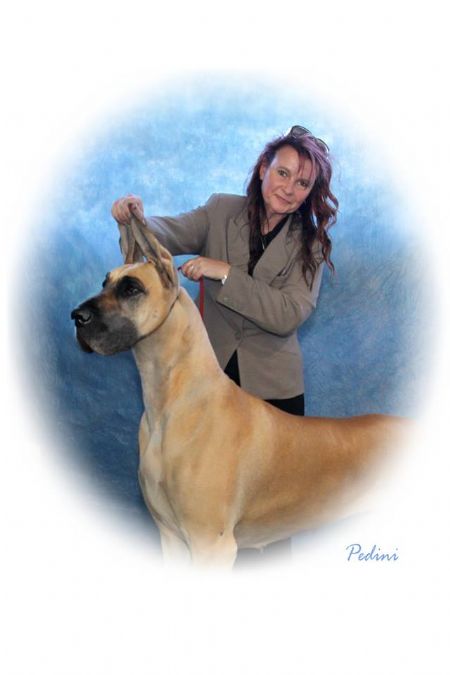 IIIIIIIIIIIIIIIIIIIIIIIIIIIIIIIIIIIIIIIIIIIIIIIIIIIIIIIIIIIIIIIIIIIIIIIIIIIIIIIIIIIIIIIIIIIIIIIIIIIIIIIIIIIIIIIIIIIIIIIIIIIIIIIIIIIIIIIIIIIIIIIIIIIIIIIIIIIIIIIIIIIIIIIIIIIIIIII
MADONNA (RUBISS CH DARKAT ASTI RICCADONNA) Does it again at the prestigious AUTUMN BULLA EXTRAVAGANZA MAPLE SHOW 5TH of May 2013
Under judge GOPI KRISHNAN (MALAYSIA) 25 POINT BEST OF BREED AND Runner Up BEST EXHIBIT IN GROUP (group 2nd)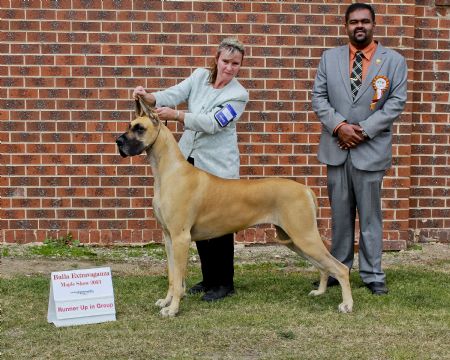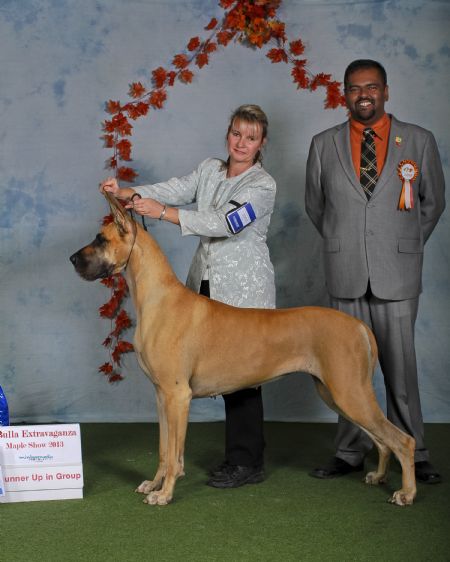 iiiiiiiiiiiiiiiiiiiiiiiiiiiiiiiiiiiiiiiiiiiiiiiiiiiiiiiiiiiiiiiiiiiiiiiiiiiiiiiiiiiiiiiiiiiiiiiiiiiiiiiiiiiiiiiiiiiiiiiiiiiiiiiiiiiiiiiiiiiiiiiiiiiiiiiiiiiiiiiiiiiiiiiiiiiiiiiiiiiiiiiiiiiiiiiiiiiiiiiiiiiiiiiiiiiiiiiiiiiiiiiiiiiiiiiiiiiiiiiiiiiiiiiiiiiiiiiiiiiiiiiiiiiiiiiiiiiiiiiiiiiiiiiiiiiiiiiiiiiiiiiiiiiiiiiiiiiiiiiiiiiiiiiiiiiiiiiiiiiiiiiiiiiiiiiiiiiiiiiiiiiiiiiiiiiiiiiiiiiiiiiiiiiiiiiiiiiiii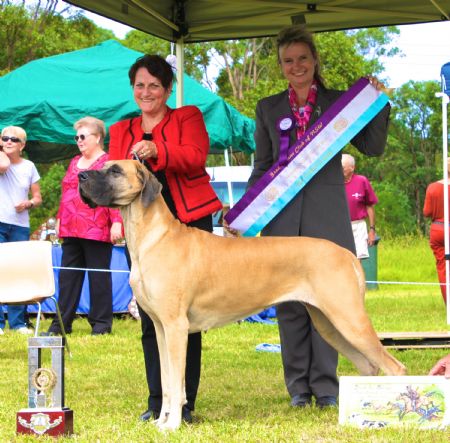 _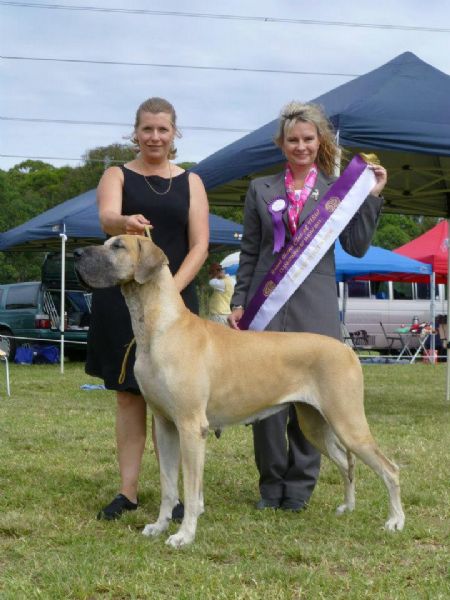 Recently I judged the NSW GREAT DANE CLUB CHAMPIONSHIP SHOW. 2013
My BEST IN SHOW, Multi BISS Ch Kochak Omnipotent and my Runner up BEST IN SHOW, SUP CH BISS BIS Kochak Rebel Rebel, both quality bitches.
IIIIIIIIIIIIIIIIIIIIIIIIIIIIIIIIIIIIIIIIIIIIIIIIIIIIIIIIIIIIIIIIIIIIIIIIIIIIIIIIIIIIIIIIIIIIIIIIIIIIIIIIIIIIIIIIIIIIIIIIIIIIIIIIIIIIIIIIIIIIIIIIIIIIIIIIIIIIIIIIIIIIIIIIIIIIIIIIIIIIIIIIIIIIIIIIIIIIIIIIIIIIIIIIIIIIIIIIIIIIIIIIIIIIIIIIIIIIIIII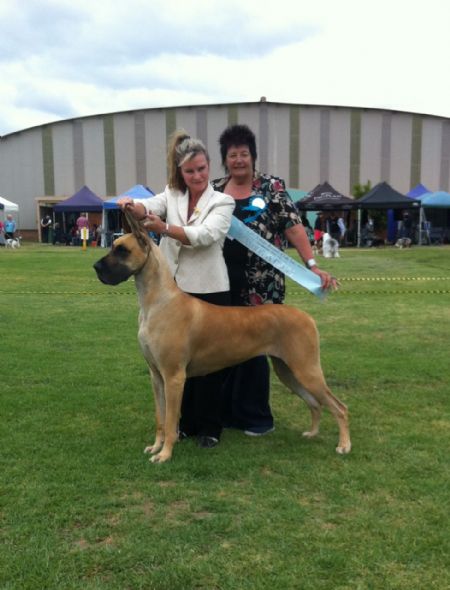 Madonna winning BEST OF BREED & RUNNER UP BEST EXHIBIT IN GROUP (GRP 2nd)
under Patricia Dee Coning (South Africa) @ Yarra Ranges Kennel Club 13th Jan. 2013

RUBISS CH DARKAT ASTI RICCADONNA

______________________________________________________________________________________________________________________________________________________
Judging at Historic Maldon KC at Kyneton, My Best Exhibit in Group the Standard Poodle, Ch Ahornstreets Vallimont (IMP Deu) owned by Caroline Sharpe
went BEST EXHIBIT IN SHOW under Sandi Mashford (Vic) 6th Jan. 2013.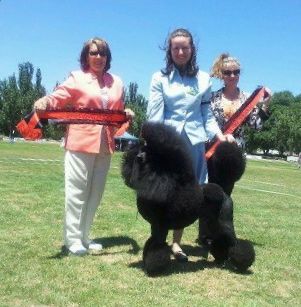 PHOTO BY Michael Gordon Setters
IIIIIIIIIIIIIIIIIIIIIIIIIIIIIIIIIIIIIIIIIIIIIIIIIIIIIIIIIIIIIIIIIIIIIIIIIIIIIIIIIIIIIIIIIIIIIIIIIIIIIIIIIIIIIIIIIIIIIIIIIIIIIIIIIIIIIIIIIIIIIIIIIIIIIIIIIIIIIIIIIIIIIIIIIIIIIIIIIIIIIIIIIIIIIIIIIIIIIIIIIIIIIIIIIIIIIIIIIIIIIIIIIIIIIIIIIIIIIIIIIII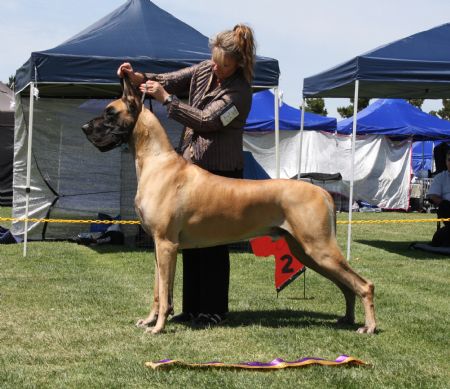 BABE DOES IT AGAIN, BEST EXHIBIT IN GROUP UNDER ALL BREEDS JUDGE MR JOHN SHEPHERD
(NSW) AT LANCEFIELD KENNEL CLUB SHOW 29TH OF DEC. 2012. THIS IS HIS THIRD TIME WINNING
THE GROUP AT THIS VERY SAME WEEKEND OF SHOWS .....
2010 -27TH OF DEC. 2010 BEST EXHIBIT IN GROUP/BEST INTERMEDIATE IN GROUP
CENTRAL HIGHLANDS KC-JUDGE MRS B PONTIN(VIC)
2011 - 27TH DEC. 2011. BEST EXHIBIT IN GROUP/BEST INTERMEDIATE IN SHOW
LANCEFIELD KC SHOW-JUDGES MR K LOVELL(VIC)MR A BURT(VIC)
iiiiiiiiiiiiiiiiiiiiiiiiiiiiiiiiiiiiiiiiiiiiiiiiiiiiiiiiiiiiiiiiiiiiiiiiiiiiiiiiiiiiiiiiiiiiiiiiiiiiiiiiiiiiiiiiiiiiiiiiiiiiiiiiiiiiiiiiiiiiiiiiiiiiiiiiiiiiiiiiiiiiiiiiiiiiiiiiiiiiiiiiiiiiiiiiiiiiiiiiiiiiiiiiiiiiiiiiiiiiiiiiiiiiiiiiiiiiiiiiiiiiiiiiiiiiiiiiiiiiiiiiiiiiiiiiiiiiiiiiiiiiiiiiiiiiiiiiiiiiiiiiiiiiiiiiiiiiiiiiiiiiiiiiiiiiiiiiiiiiiiiiiiiiiiiiiiiiiiiiiiiiiiiiiiiiiiiiiiiiiiiiiiiiiiiiiiiiiiiiiiiiiii
MADONNA WINS BEST EXHIBIT IN GROUP UNDER GROUP SPECIALIST JUDGE DIANE SHACKLEFORD AT ECHUCA KC SHOW 9TH NOV 2012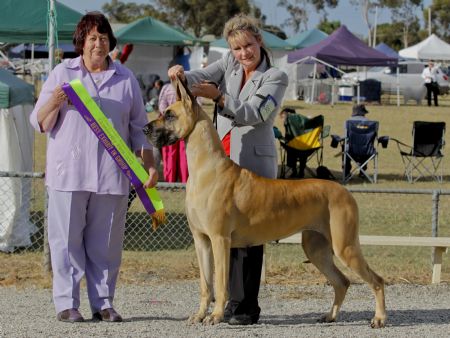 IIIIIIIIIIIIIIIIIIIIIIIIIIIIIIIIIIIIIIIIIIIIIIIIIIIIIIIIIIIIIIIIIIIIIIIIIIIIIIIIIIIIIIIIIIIIIIIIIIIIIIIIIIIIIIIIIIIIIIIIIIIIIIIIIIIIIIIIIIIIIIIIIIIIIIIIIIIIIIIIIIIIIIIIIIIIIIIIIIIIIIIIIIIIIIIIIIIIIIIIIIIIIIIIIIIIIIIIIIIIIIIIIIIIIIIIIIIIIIIIIIIIIIIIII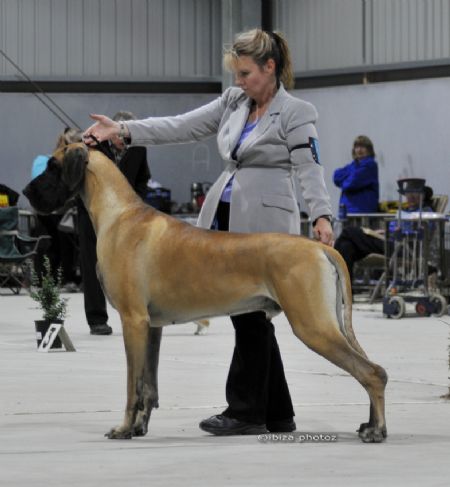 BABE PICTURED ON THE LEFT...CH DARKAT ACHTUNG BABY WINS-
BEST EXHIBIT IN GROUP (GROUP 1ST) BEST OPEN
IN GROUP UNDER MRS BARBARA DOYLE (VIC)
AT BENDIGO AG. SOC. SHOW 26TH OCTOBER 2012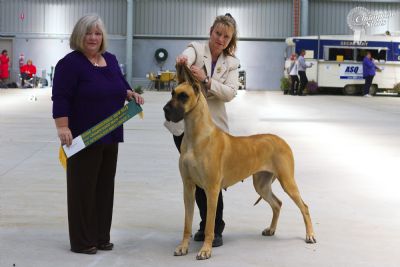 PICTURED RIGHT
MADONNA- RUBISS CH DARKAT ASTI RICCADONNA
WINS- BEST OF BREED AND BEST AUSTRALIAN BRED IN GROUP
UNDER INTERNATIONAL ALL BREEDS JUDGE GLEN ALEXANDER (VIC)
AT BENDIGO AG SOC. SHOW 27TH OCTOBER 2012
IIIIIIIIIIIIIIIIIIIIIIIIIIIIIIIIIIIIIIIIIIIIIIIIIIIIIIIIIIIIIIIIIIIIIIIIIIIIIIIIIIIIIIIIIIIIIIIIIIIIIIIIIIIIIIIIIIIIIIIIIIIIIIIIIIIIIIIIIIIIIIIIIIIIIIIIIIIIIIIIIIIIIIIIIIIIIIIIIIIIIIIIIIIIIIIIIIIIIIIIIIIIIIIIIIIIIIIIIIIIIIIIIIIIIIIIIIIIIIIIIIIIIIIIIIIIIIIIIIIII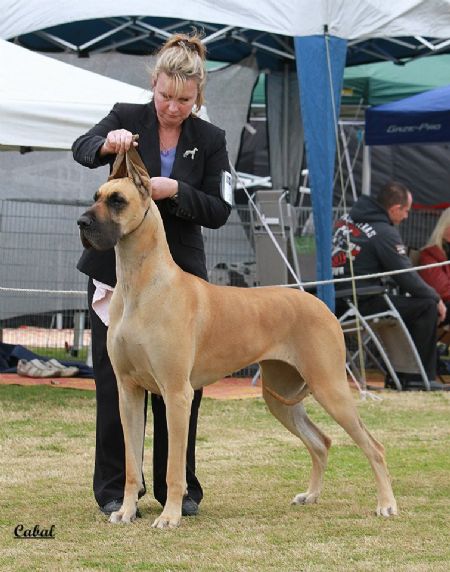 MADONNA WINS BITCH CHALLENGE AND RUBOB TO HER BROTHER CH DARKAT ACHTUNG BABY
AT 'DOGS NSW PURINA INTERNATIONAL SPRING FAIR' UNDER MR MICHEL BOUCHARD (CANADA)
31-8-2012
AND DOES IT AGAIN THE NEXT DAY WINNING BITCH CHALLENGE UNDER MR ERWIN DEUTSCHER (AUSTRIA)
(Photo by Cabal)
iiiiiiiiiiiiiiiiiiiiiiiiiiiiiiiiiiiiiiiiiiiiiiiiiiiiiiiiiiiiiiiiiiiiiiiiiiiiiiiiiiiiiiiiiiiiiiiiiiiiiiiiiiiiiiiiiiiiiiiiiiiiiiiiiiiiiiiiiiiiiiiiiiiiiiiiiiiiiiiiiiiiiiiiiiiiiiiiiiiiiiiiiiiiiiiiiiiiiiiiiiiiiiiiiiiiiiiiiiiiiiiiiiiiiiiiiiiiiiiiiiiiiiiiiiiiiiiiiiiiiiiiiiiiiiiiiiiiiiiiiiiiiiiiiiiiiiiiiiiiiiiiiiiiiiiiiiiiiiiiiiiiiiiiiiiiiiiiiiiiiiiiiiiiiiiiiiiiiiiiiiiiiiiiiiiiiiiiiiiiiiiiiiiiiiiiiiiiiiiii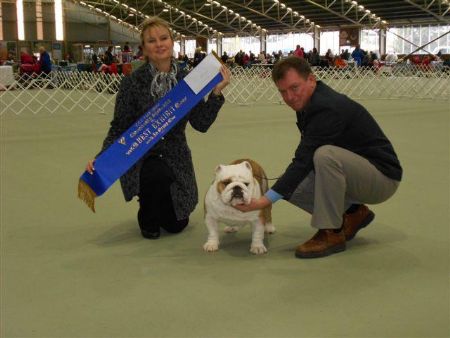 KCC PARK SHOW SUNDAY THE 12TH OF AUGUST
MY BEST EXHIBIT IN GROUP (Group 1st) (BRITISH BULLDOG)
SUPREME CHAMPION ROBOCKY CHICAGO WHITESOX
Owned by Karazma kennels
entry of 21 Bulldogs (96 in Non Sporting)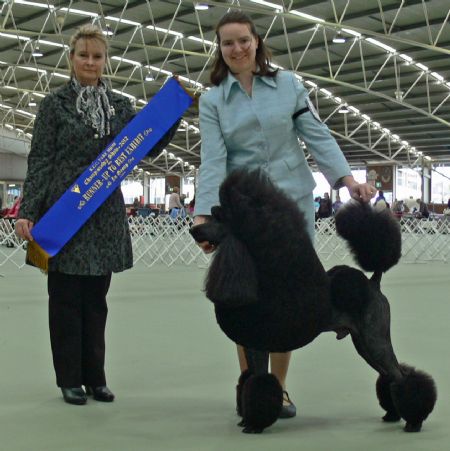 RUNNER UP BEST EXHIBIT IN GROUP (GROUP 2ND) INTERMEDIATE IN GROUP
STANDARD POODLE AUSTRALIAN CHAMPION AHORNSTREETS VALLIMONT (IMP GERMANY)
Owned by Miss C P Sharpe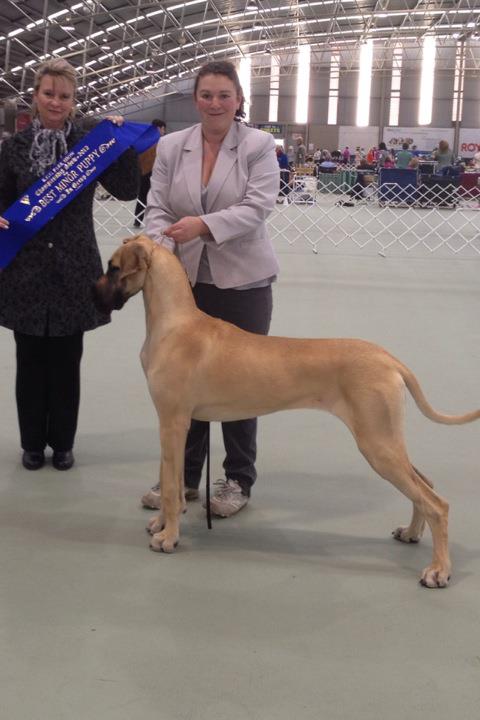 MY BEST MINOR IN GROUP THE GREAT DANE, ANNADOR DASH OF THIS
OWNED MRS D & MISS A ALEXANDER
IIIIIIIIIIIIIIIIIIIIIIIIIIIIIIIIIIIIIIIIIIIIIIIIIIIIIIIIIIIIIIIIIIIIIIIIIIIIIIIIIIIIIIIIIIIIIIIIIIIIIIIIIIIIIIIIIIIIIIIIIIIIIIIIIIIIIIIIIIIIIIIIIIIIIIIIIIIIIIIIIIIIIIIIIIIIIIIIIIIIIIIIIIIIIIIIIIIIIIIIIIIIIIII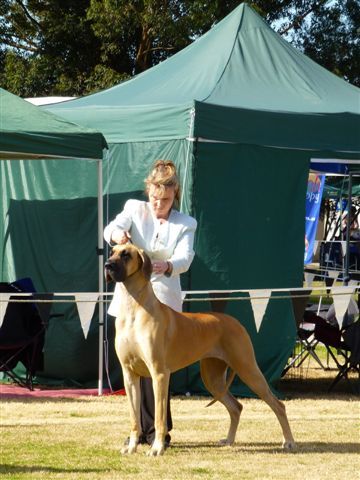 Madonna (RUBISS CH DARKAT ASTI RICCADONNA) wins a 21 point BEST OF BREED and AUSTRALIAN BRED IN GROUP
under Mr Hans van den Berg (Holland) at the Sydney Kennel Club show Friday the 3rd of August 2012
Photo by Margo Turnbull.
________________________________________________________________________________________________________________________________
Had a total ball in Adelaide judging at the Adelaide Portland Kennel club on Monday the 11th of June....
an absolute thrill to award my winners on the day and even more exciting to find out afterwards My Baby in group and My Junior in Group Standard Poodles are Father and Son,
picture taken on the day. Thank you to all the exhibitors on the day for your entries and your terrific sportsmanship..
Pictured Below...Magicalia Certain to Copy this..Baby in Group-owned by Mrs B Howe / Mrs T Thomas-Clendon
Jawazza Carbon Copy (Imp Swd) BEST OF BREED-JUNIOR IN GROUP & JUNIOR IN SHOW-owned by Mrs T Thomas-Clendon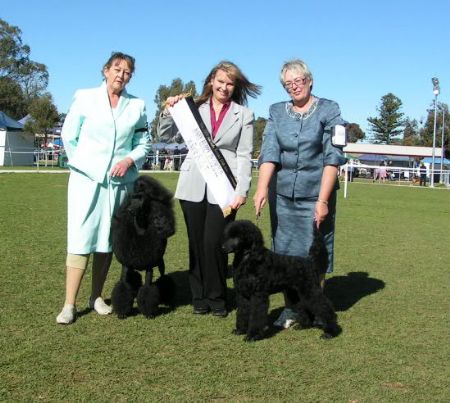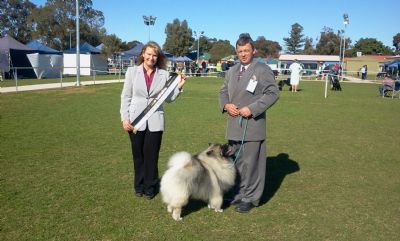 My Runner up Best Exhibit in Group (Group 2) was the Keeshond Australian Champion Calivale True Spirit (D&D Wall / K Santas)
IIIIIIIIIIIIIIIIIIIIIIIIIIIIIIIIIIIIIIIIIIIIIIIIIIIIIIIIIIIIIIIIIIIIIIIIIIIIIIIIIIIIIIIIIIIIIIIIIIIIIIIIIIIIIIIIIIIIIIIIIIIIIIIIIIIIIIIIIIIIIIIIIIIIIIIIIIIIIIIIIIIIIIIIIIIIIIIIIIIIIIIIIIIIIIIIIIIIIIIIII
Madonna wins BEST AUSTRALIAN BRED IN SPECIALTY SHOW under Mrs S Juutilainen (Finland) @ the GREAT DANE CLUB OF NSW (9TH APRIL 2012)
PHOTO BY MARGO TURNBULL
llllllllllllllllllllllllllllllllllllllllllllllllllllllllllllllllllllllllllllllllllllllllllllllllllllllllllllllllllllllllllllllllllllllllllllllllllllllllllllllllllllllllllllllllllllllllllllllllllllllllllll
Madonna excels at the recent shows : Cohuna/Kerang weekend............winning BC..Australian breed in Group and Australian breed in SHOW under Mrs Courtney-Reid (SA) Friday night (16th March 2012)
BEST OF BREED and Runner up BEST EXHIBIT IN GROUP under Mrs T Edwards (SA) Saturday Morning show (17th of March 2012)
Bitch Challenge and RUBOB under Breed Specialist Mrs Sue Gray (TAS)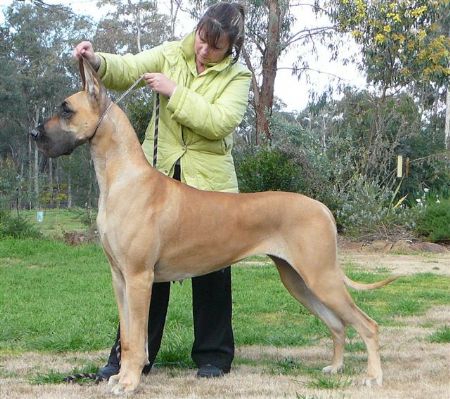 to her Brother CH DARKAT ACHTUNG BABY (BABE) who went BEST OF BREED and INTERMEDIATE IN GROUP.
mADOOOOOOOOOOOOOOOOOOOOOOOOOOOOOOOOOOOOOOOOOOOOOO

Darkat Great Danes was awarded Number 1 breeder nationally for 2011
what a fantastic year, what a team!!
as per DOL PS
LLLLLLLLLLLLLLLLLLLLLLLLLLLLLLLLLLLLLLLLLLLLLLLLLLLLLLLLLLLLLLLLLLLLLLLLLLLLLLLLLLLLLLLLLLLLLLLLLLLLLLLLLLLLLLLLLLLLLLLLLLLLLLLLLLLLLLLLLL
Earlier this year I was invited to judge the Great Dane club of Victoria open show held on the 29th October 2011
It was an absolute thrill and honor to accept the invitation. With an entry of 32 my BEST EXHIBIT IN SHOW came
from the minor puppy dog class DARJOCE FORREST GUMP (AI) DOB 26th/03/2011. owned and handled by breeder Jos
and Darren Payne from Victoria Pictured below.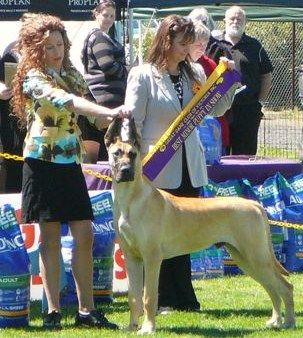 SSSSSSSSSSSSSSSSSSSSSSSSSSSSSSSSSSSSSSSSSSSSSSSSSSSSSSSSSSSSSSSSSSSSSSSSSSSSSSSSSSSSSSSSSSSSSSSSSSSSSSSSSIIII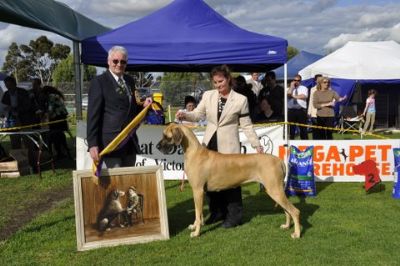 (Pink) BISS CH DARKAT ANGELINA BALLERINA
PICTURED WITH MR KEN HUMPHRIES FROM THE UK
BREED SPECIALIST (BENGRAFTON GREAT DANES)
AT THE GREAT DANE CLUB OF VICTORIA CHAMP SHOW
29TH OCT. 2011 ENTRY OF 67 DANES
BEST EXHIBIT IN SPECIALTY SHOW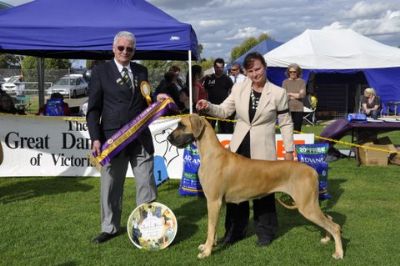 Madonna RUBISS CH DARKAT ASTI RICCADONNA
PICTURED WITH MR KEN HUMPHRIES FROM THE UK
BREED SPECIALIST (BENGRAFTON GREAT DANES)
AT THE GREAT DANE CLUB CHAMP SHOW 29TH OCT.2011
RUNNER UP BEST EXHIBIT IN SPECIALTY SHOW.
AAAAAAAAAAAAAAAAAAAAAAAAAAAAAAAAAAAAAAAAAAAAAAAAAAAAAAAAAAAAAAAAAAAAAAAAAAAAAAAAAAAAAAAAAAAAAAAAAAAAAAAAAAAAAAAAAAAAAA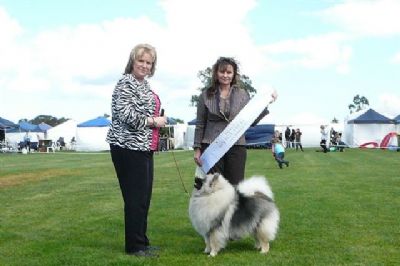 KEESHOND CLUB OF VICTORIA OPEN SHOW
SUNDAY 2nd of OCTOBER 2011

BEST EXHIBIT IN SHOW
KEEZ KAUSE FOR KONCERN (T&C Rogers)
Entry of 41
SSSSSSSSSSSSSSSSSSSSSSSSSSSSSSSSSSSSSSSSSSSSSSSSSSSSSSSSSSSSSSSSSSSSSSSSSSSSSSSSSSSSSSSSSSSSSSSSSSSSSSSSSSSSSSSSSSIIIIII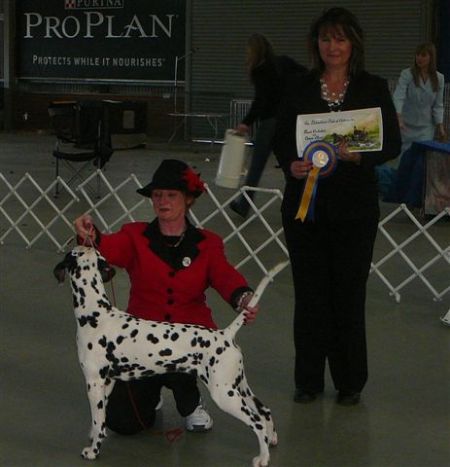 Above....
I was invited to judge the Dalmatian Club of Victoria's Open Show on 16th July 2011.
It was my pleasure and a honor to judge this delightful breed.
BIS winner - Jalorca Takin Care of Business from the puppy bitch class.(entry 33)
A very special thank you to my friend Gayle Revill for her expertise in designing the trophies for this show.
AAAAAAAAAAAAAAAAAAAAAAAAAAAAAAAAAAAAAAAAAAAAAAAAAAAAAAAAAAAAAAAAAAAAAAAAAAAAAAAAAAAAAAAAAAAAAAAAAAAAAAAAAAAAAAAAAAA
Champion Number 5
RUBISS AUSTRALIAN CHAMPION DARKAT ASTI RICCADONNA
Multi BEST OF BREED winner and Multi Class in Group winner.

Madonna pictured below winning Bitch CC and BOB
with ***** BREED SPECIALIST*****
MISS ANNETTE ALEXANDER (VICTORIA) ANNADOR KENNELS
BEST OF BREED - AUSTRALIAN BRED IN GROUP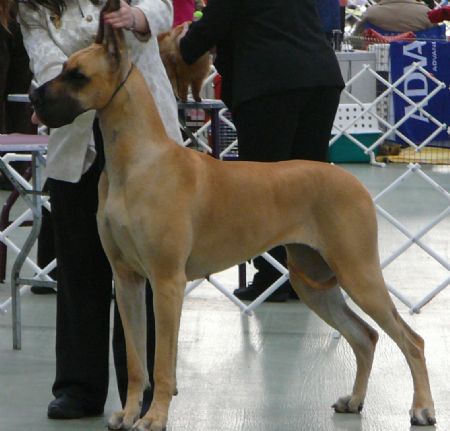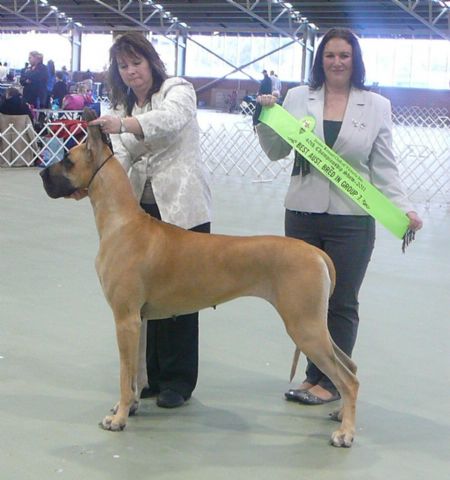 Our latest Australian Champion Darkat Abracadabra (Teddy)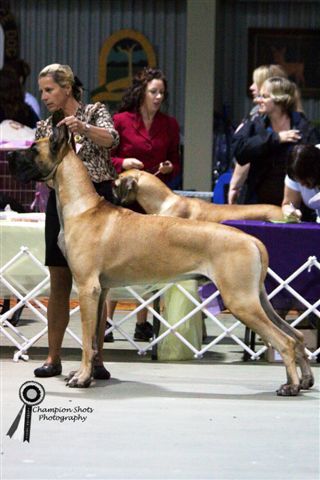 Owned, handled and loved by Lynne King
Best in Specialty Show @ the Great Dane Club of Victoria open show under Mr Mathew Morse (Vic) Oct 2010
Best Exhibit in Group (Group 1st) 18th March 2011. Under Mrs J Arthur (NSW)
******Our 3rd Champion DARKAT ACHTUNG BABY******
Pictured below
Best of Breed Judge Mrs Diane Boyle 2nd Jan 2011
BEST EXHIBIT IN GROUP (Group 1st) @ AUSTRALIA DAY INTERNATIONAL SHOW 26th January 2011
International Judge Mr Hisayoshi Kadowaki (Japan)
BEST EXHIBIT IN GROUP (Group 1st) @ SHEPPARTON & DISTRICT KENNEL CLUB 14th MAY 2011
All Breeds Judge Miss M Davis (QLD)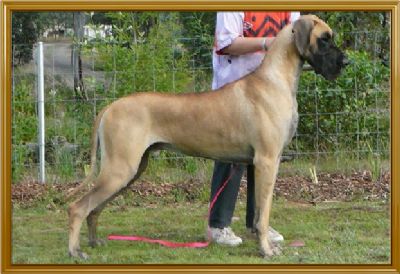 ****** CHAMPION******
BISS Multi BIS DARKAT AGENT PROVOCATEUR
Owner Handler Tracy Coyle
congratulations
Keep up the good work.
Runner up Best in group (Grp 2nd) to his brother Babe @ Australia Day International 26th Jan 2011 Mr H Kadowaki (Japan)
Best in Group Warnambool & District 29-Jan 2011 Mr S Munton (Tas)
Best in Specialty Show NSW 22nd April 2011 Mrs Judy Jury (Canada)
Best in show @ Canberra Non Sporting, Utility and Working dog club 23rd April 2011 Mrs Narelle Hammond-Robinson (NSW)
What a star! Yet another BIS award under All Breeds Judge Ms L Dorr (QLD) @ Melb Dog Club 16th July 2011.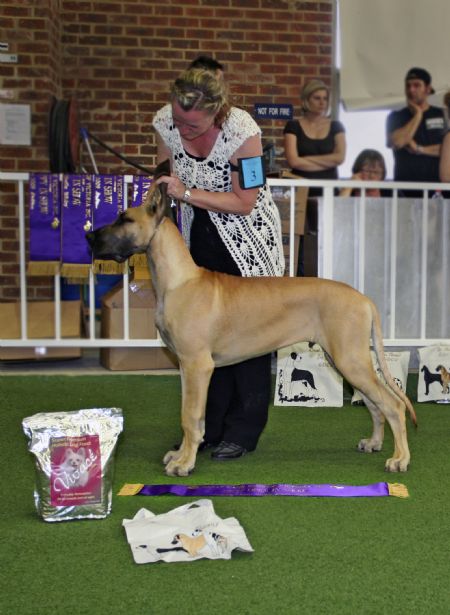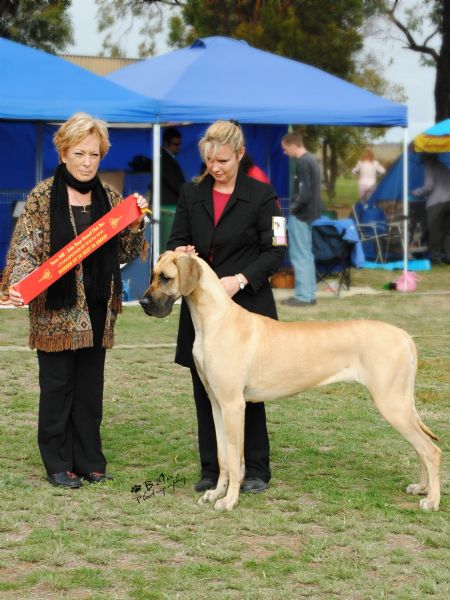 ******Our 2nd CHAMPION*****
BISS AUST. CH DARKAT ANGELINA BALLERINA
Pictured left

PINK
Multi Runner up Best in Group winner and Multi age class in show winner
******OUR NEWEST MEMBER TO OUR SHOW TEAM******
DARKAT APANCHITO PASSION
ANGIE Pictured below left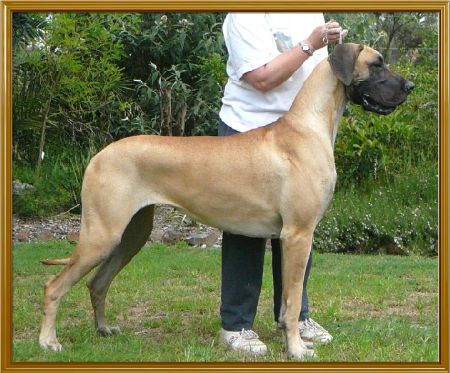 BEST of BREED and Australian Bred in Group under All Breeds Judge Mrs B Hession (NSW) 15th Jan 2011
RES BC and Australian Bred in Group under All Breeds Judge Mr B Redhead (SA) 26th Feb 2011
Bitch Challenge Reserve of Breed and Australian Bred in Group under All Breeds Judge Mrs C Redhead(SA) 27thFeb2011.
**OUR CURRENT SHOW TEAM**
** Specialty Wins or Specialist
**31st Oct 2009 Great Dane Club of Victoria-Open show-Judge Mr T Rogers
DARKAT AGENT PROVOCATEUR-BEST BABY PUPPY IN SHOW (Jackson)
**31st Oct 2009 Great Dane Club of Victoria-Champ Show-Judge Dr E Liebes (USA)
DARKAT ANGELINA BALLERINA-BEST BABY PUPPY IN SHOW (Pink)
2nd Nov 2009 Vic Womens Dog Club-Judge Mrs L Millman (USA)
Darkat Agent Provocateur-Best Baby of Breed
3rd Nov 2009 Sunbury Canine Club-Judge Mr O Nielsen (Canada)
Darkat Achtung Baby- Best Baby of Breed
15th Nov 2009 Garden State KC-Judge Ms B Gabogrecan
Darkat Agent Provocateur - Best Baby of Breed
21st Nov 2009 Kyneton Agricultural Soc.-Judge Mrs D Lee
Darkat Achtung Baby- Best Baby of Breed / BEST BABY IN GROUP (Babe)
12th Dec 2009 Castlemaine & Dist. KC-Judge Ms N Lane (NSW)
Darkat Achtung Baby-DC-BOB (9 points)-BEST MINOR PUPPY IN GROUP
Darkat Angelina Ballerina-Res BC
13th Dec 2009 Maryborough & Dist. KC-Judge Ms K Tosi (QLD)
Darkat Angelina Ballerina-BC-RUBOB-BEST MINOR PUPPY IN GROUP
Darkat Achtung Baby-Res-DC
19th Dec Yarra Valley KC-Judge Mrs S Shrigley (Tas)
Darkat Agent Provocateur-BEST MINOR PUPPY IN GROUP
20th Dec Kilmore KC-Judge Ms S Edmunds (NSW)
Darkat Agent Provocateur-BOB(13 Points)-BEST MINOR PUPPY IN GROUP
Darkat Achtung Baby-Res DC-Runner up Best of Breed
Darkat Angelina Ballerina-Res BC
PLEASE VISIT "OUR DANES" PAGE TO VIEW SHOW RESULTS for 2010.
Click on individual dogs to view their profile, pedigree and scroll down to see show results.
Babes first show, wins baby puppy of breed


Babe on the move
5th Sept 2009


Madonnas first show


Madonna moving


Jacksons first show
on the move.
6th of Sept 09


Pinks first show, wins baby puppy of breed 6th of Sept 09


Heidi's first show back after having babies, wins BC-RUBOB 5th Sept 09


Pink 4 1/2 months-moving
Bendigo Show Best baby of breed.


Pink 24th oct 2009
Bendigo


Babe moving 24th Oct 2009


Pink chillin!


21st Nov 09
Kyneton Ag Soc.
Babe-Baby in group


Jackson 6 months old


Babe-BOB-minor in grp
Ms N Lane(NSW)
13-12-09


Madonna 6 1/2 months


Pink - RUBOB Minor in grp
Ms K Tosi (QLD)
14-12-09


Jackson BOB-Minor in Grp
Judge Ms S Edmunds
20-12-09


Teddy 18 months


Angie 22 months